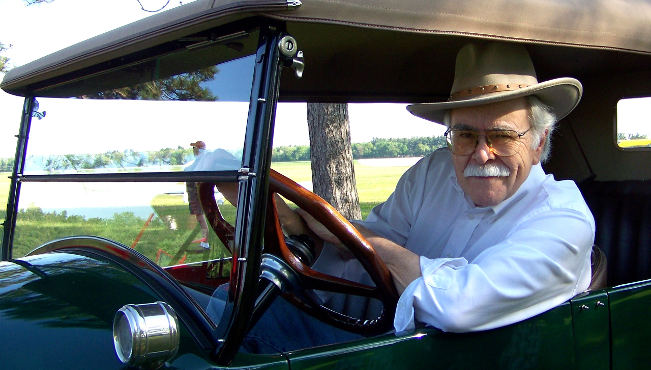 Pictures and bios
I'm coming your way and you need some information about me for a news release, a news story, or an introduction. Here are two bios, one short and one long. Just copy-and-paste them into your computer's file. Also here are what we in the trade call mug shots. Right click on the photo you want, then click on SAVE IMAGE AS, and you can save the photo in your computer as a JPEG. Just don't put my mug shots on wanted posters.
Mini-bio (third person)
Janesville resident Jerry Peterson writes crime novels, novellas, and short stories set in Kansas, Tennessee, and Wisconsin.
Rubbed Out, his current novella, features John Wads, a former military police investigator now working as a night shift manager for the local Kwik Trip convenience store . . . because the police aren't hiring. Wads gets drawn into a pair of 80-year-old murders when a new friend proposes to build a speakeasy in a cave beneath his land.
Before becoming a writer, Peterson taught speech, English and theater in Wisconsin high schools, then worked in communications for farm organizations for a decade in Wisconsin, Michigan, Kansas and Colorado. He followed that with a decade as a reporter, photographer, and editor for newspapers in Colorado, West Virginia, Virginia, and Tennessee.
Long bio (first person)
I got my start as a writer when, as a kid of 12, my parents gave me a toy printing press for Christmas. That winter, the stories I wrote – the subjects now long forgotten – I set in rubber type which I inked and printed on paper that came with the rotary press.

I wrote for student newspapers in high school and college, then followed those experiences into the working world of public relations, writing and editing membership publications for state Farm Bureaus in Wisconsin, Michigan, and Kansas. I also did broadcast work for them. After I left an executive position with the Colorado Farm Bureau in 1979, I became a real journalist – a reporter and columnist for the Douglas County News-Press in Castle Rock, Colorado. I followed that with reporting and editing positions with weekly, semi-weekly, and daily newspapers in West Virginia, Virginia, and Tennessee.

After a decade of that, I departed from daily journalism to become a graduate student at the University of Tennessee. There I began collecting stories that I've put into short stories and novels set in the Great Smoky Mountains. Several of my shorter works have been published in literary anthologies and popular culture journals.

I've benefitted greatly from studying creative writing under novelists Wilma Dykeman and Allen Wier. In addition, I've participated in writing workshops led by novelists Lee Smith and Robert Morgan, mystery writers Jeremiah Healy and Anne Perry, and thriller writer David Morrell. Morrell, he's the man who created Rambo.

The Great Manhattan Mystery Conclave, in Manhattan, Kansas, fostered my creation of James Early, the Riley County sheriff who was the sleuth in two short stories published in the conclave's 2005 anthology. I grew Early and his adventures into the crime novel Early's Fall that Five Star published in 2009. That book was nominated for Love Is Murder 2011 Lovey award for best historical novel. LIM is a mystery writers conference held annually in Chicago.

Since Early's Fall, I've written and published Early's Winter, book 2 in my James Early Mysteries series; The Watch and Rage, books 1 and 2 in my AJ Garrison Crime Novels series; The Last Good Man and Capitol Crime, books 1 and 2 in my Wings Over the Mountains series of novels; Iced and Rubbed Out, Books 1 and 2 in my John Wads Crime Novellas series; and three short story collections, A James Early Christmas, The Santa Train, and A James Early Christmas - Book 2.

While I've been something of a vagabond for much of my life, today I live and write in my hometown of Janesville, Wisconsin.
Whazat?
The wovel.
Rick Kleffel reported on a new form of the novel on
NPR's Morning Edition
back in 2009:
The way we read is changing. Time once spent curled up with a good book is now often devoted to catching up on blogs, and browsing Web sites.
One publishing company is trying to take advantage of those habits, offering fiction in serial form, online.
While she was working as an editor at Dark Horse Comics, Victoria Blake used breaks from work to surf the Web.
"I noticed that I was using my random 10 minutes in between tasks to go to gawker.com, which is my favorite media gossip site," she says. "I realized that if I provided prose – fiction – that I would want to read, myself ... that I would use those 10 minutes to read prose, not gossip."
Blake left Dark Horse to found Underland Press, which publishes both online and traditional print books.
She wanted to offer exciting, edgy fiction with a touch of the fantastic, and to make her Web site a primary component of her business.
She hired Jesse Pollack to help her with Web programming, and then got together with him, some of his programming friends, a six-pack and a bag of Oreos. They came up with a format that demanded a new name: the wovel.
"A wovel is a Web novel," Blake says. "There's an installment every Monday. At the end of every installment, there's a binary plot branch point with a vote button at the end."
Programmer Pollack describes the wovel format as reminiscent of the old "Choose Your Own Adventure" books, with a high-tech twist: "allowing the readers to ... choose their way through and decide on integral changes in the plot."
Voting is open from Monday to Thursday, the author writes the chapter from Thursday to Sunday, and Underland Press posts the installment on Sunday night.
She says it's a combination of "...the technical functionality of Web 2.0, the creativity of fiction, and the pace of print journalism."